5 Essential Apps for Drivers​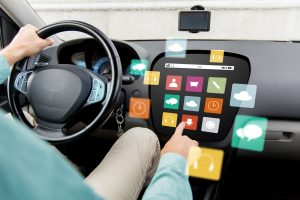 Pardon the candidness, but Google Maps isn't the only app that is useful to drivers. There are numerous smartphone apps you should have, and not just navigation apps. Download these five.
Roadtrippers
Roadtrippers is one of those criminally ignored things that just hasn't made it to the mainstream yet. It's a navigation app but it includes so much more than just nav. It offers lodging suggestions and different attractions along your route. You can plan complicated routes with lots of stops or "via points," as Google calls them. This is the best (road) trip planner you'll find unless your best friend is a travel agent. Time to plan a road trip! Another cool feature: gas usage estimator.
Dashdroid
Dashdroid is a free app that can do a lot of the things a car's infotainment system can do. Infotainment refers to your audiovisual services, such as music, navigation and caller ID. These services often use a vehicle's built-in touch screen. If you drive an older car, using Dashdroid offers a customizable interface that you can use to control all of your infotainment without a built-in screen. Plug your phone into your vehicle's USB or 3.5mm audio port and use its touch screen or voice recognition to control most of the apps you need while on the road.
Spot Hero
If you often visit urban destinations, you've been that person who wants to back out of a parking deck when you find out how expensive it is. This can be frustrating. Enter Spot Hero, a parking app. Just open the app and click some nearby parking spots on the map. Compare rates and pre-pay for the one you choose. Both carpark companies and individuals with extra parking space list their parking spaces on Spot Hero, meaning you can find spaces you might not notice otherwise. As far as apps for drivers go, this one's a big deal.
GasBuddy
GasBuddy helps you find the cheapest gas nearby. The advantage of using this app are obvious. However, it currently relies on user input to establish prices. When nobody has updated a price recently, the reported price is a little off. Sometimes the price at the pump isn't the same as the price advertised on the streetside sign, which also causes some inaccuracies. Despite these problems, GasBuddy helps drivers save money every day.
Spotify
Spotify has gotten a bad rap from music stars for paying them so little. But don't let that convince you to look elsewhere for cruising music. The artists can always opt out of being listed on this streaming service, if their contract allows it.
Spotify is a great app for drivers. We love it so much because it allows unlimited streaming of any song you want. That means you can search its vast database and play any song as many times as you want, whenever you want. I know what you're asking. "What about data?" When you pay for Spotify Premium ($9.99/month), you can store 3,333 tracks on up to three devices, for offline listening. We enjoy the interface and ease of use, too. This app is for real tuneheads and casual listeners alike. Don't turn the volume up too loud!
Don't commit to a vehicle until you've gotten quotes from every local dealership. Request those free quotes all at once right here at bestnewcar.com.
​