Cars Without Spare Tires: List and Tips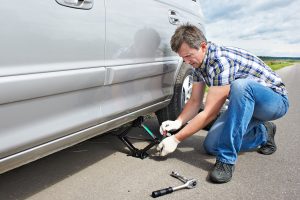 New cars without spare tires are almost ordinary today. There's a good chance you're not aware your own vehicle is one if it's less than 6 years old. "Standard" spare tires are not usually mentioned by car salespeople and are easily overlooked by car buyers. At the same time, manufacturers are looking for every opportunity to reduce costs and improve fuel efficiency. The spare tire, believe it or not, is something many of them are excluding from their new models. About one third of every new car sold is a car without a spare tire.
Here, we'll point out which vehicles don't come with standard spare tires, even though you'd expect them to. We'll also answer some FAQs regarding spare tires and cars without spare tires.
What do manufacturers provide in place of the spare tire?
The standard replacement is an inflator kit with sealant and an inflator or pump. The sealant can be used to block air from being released through small holes. For large holes, it is not effective. Each inflator kit is slightly different. It's necessary to read your owner's manual before you start driving.
Which vehicles don't come with standard spare tires?
The list is quite long. Even some 4x4 SUVs come without spares now. 2017 models may still bring some surprises. For now, this list from AAA is about as accurate as we can get.
Manufacturers cite fuel efficiency as the primary reason for excluding the spare. Some models seem to contradict that because they are not made for efficiency. We can assume the extra space was important in these examples:
Land Rover Range Rover Sport (some trims)
Aston Martin (all models)
BMW X Series (optional spare)
Chevrolet Tahoe Hybrid (optional spare)
Chevrolet Equinox (optional spare)
GMC Acadia (optional spare)
Jeep Cherokee (optional spare)
Ram Promaster (optional spare)
What are the advantages of having a spare tire?
The best advantage of having a spare tire is the ability to completely replace a tire. Some spares can't travel at full speed but at least you will have something to get your down the road. Sometimes sealant (which comes with inflator kits) will not repair a leak. In most cases, holes in the sidewall can't be repaired. So, having a spare increases the number of situations that you can resolve by putting the spare on.
I don't want to put a spare on or use an inflator kit. What do I do?
Of course. Many drivers do not intend to change or seal a tire by themselves. You should probably subscribe to a roadside assistance program by your insurance company or by AAA. If you don't, you'll need to call the closest towing company or friend to help you get back on the road when disaster strikes.
If you're looking for a new vehicle, you'll locate the best deal only after you've gotten quotes from every dealer in your region. Often, when you request them online, you'll be offered exclusive discounts! Click here to search local inventory.