BestNewCar.com's Complete Guide To Choosing and Purchasing a Car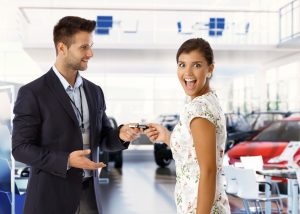 Alright, you want to get advice for everything from choosing to purchasing? Starting from scratch, right? That's good. You're a smart consumer. You're going to be just fine. You'll probably get a good deal, too. The process of car buying isn't a simple as we'd like but a little preparation goes a long way. Here we go!
Step 1: Determine Your Budget
This is actually one of the most difficult parts of the car buying process. Getting this wrong can lead to financial trouble, whether mild or destructive. Therefore, do your best to keep expenses down as much as you can, especially if you don't have loads of savings.
Budgeting involves math. Don't freak out, but we've written a separate article about it. You can calculate your budget using formulas or you can use the information to get a general idea of what your budget should be. Just make sure you don't spend too much. Check out "How to Set Your Car Budget."
Step 2: Choose a Few Vehicles
Notice we said "a few" vehicles. You could have as much as 5 or 6 in your final list. This is because your chances of getting a great deal are better if you give yourself more options. You might also have to cross some off of the list later on. So, try to find a few alternatives. Not every vehicle is right for you. Here are some important questions to ask.
How many passengers do I need to carry on a regular basis?
How much cargo area do I need?
Should I look for a higher fuel efficiency? (anything below 15 city/ 19 highway mpg can be considered low-efficiency)
Should I accept a vehicle that doesn't have really good safety ratings? (If you have children, we suggest that you not accept such a vehicle)
Do I need to tow anything or travel on snow or other terrain?
There's an endless list of questions you might ask. It all depends on your lifestyle. Take your time and research the vehicles you consider. Enter your questions into Google or another search engine. For example, if you're looking for compact all-wheel drive vehicles, search "which compact vehicles are all-wheel drive?" and click search.
Having different makes (brands) in your final list is a good idea because you can use quotes from different dealers to negotiate your price. You'll be tempted to deem vehicles "equal" from time to time but dig deeper and you'll always find something that sets them apart.
Step 3: Test Drive
When you test drive, you want to make sure your sales rep doesn't get the impression that you're ready to make a purchase. You still have work to do before you sit down for negotiations. Bring your family along on the drive. Ask everyone to listen and pay attention to the comfort of the ride. They should warn you if they don't have enough leg room or can't get into the back seat. Such problems might mean you have to cross the vehicle off your list.
Step 4: Decide What You'll Offer (And What You Think Your Trade-In Is worth)
You can use a number of sources to get an idea of what to offer. Edmunds.com can estimate the market value of your chosen vehicle based on local sales information, for example. You can also use these kinds of services to value your trade-in. You should try to get as much as you can for it.
We've offered free quotes from dealers across the country for many years. The advantage of our service is that you can compare quotes from competing dealers without actually visiting them and being asked to wait in line, etc. We recommend getting quotes from as many dealers as you can. Then, take the best quote to a dealer who gave you another quote and ask them if they can do any better. Just click here to get your free, no-obligation, local quotes.
Step 5: Get Financed
You'll likely save a little extra money by financing with your bank or a credit union instead of the dealership. Now that you know what you're going to offer for the vehicle, you can talk to a loan rep about borrowing money for your vehicle. You can still check the dealer's offer and compare it but some drivers go ahead and accept a loan before they even visit the dealership. It takes that aspect of the deal out of the negotiations, which is helpful.
Step 6: Negotiate and Drive Away (or Walk Away)
Keep in mind that you'll be able to get a better deal on older models. The brand new model-year vehicles tend to have firmer asking prices. You might also be able to take advantage of the timing. The end of the month, end of the year and any time the dealership is empty are good times to make a deal. The dealership's managers are more likely to accept lower offers at these times. For more information, see "The Best Times to Get Automobile Deals."
As we said before, take the best quote you got to a dealer who gave you another quote and ask them if they can do any better. Be prepared to double check everything, from options to trims to calculations. You can even calculate your expected payments beforehand so you know nobody's taking advantage of you. Don't get us wrong. We're not saying you should expect to be tricked. Just know that the more information you have, the better your position to get a great deal.
One last thing. Have a look at "Car Dealer Tactics: The 4 Square" as a primer to salesperson tactics.
Now you're ready to go! Don't forget, you can compare quotes from all of your local dealers for free. There's no obligation involved. Click here.