Cost-to-Own: The Best Inexpensive Vehicles and Their Downsides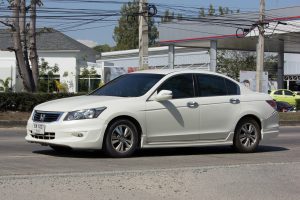 So, you're looking through KBB's cost-to-own figures and you start to wonder if any of these frugal vehicles are going to work out for you. Are they any good, at the end of the day? The answer to that question depends on your expectations. You're right to suspect that the cheapest car to own is usually not the one with the most to offer in terms of features. Sometimes features that are standard in most vehicles are cut out to make a low-cost vehicle lighter or less expensive.
According to Kelley Blue Book, these are the category winners in the 5-year cost to own categories.
| | |
| --- | --- |
| Subcompact Car: | Chevy Spark |
| Compact Car: | Toyota Corolla |
| Mid-Size Car: | Honda Accord |
| Full-Size Car: | Chevy Impala |
| Sports Car: | Toyota 86 |
| Hybrid/Alternative Energy Car: | Toyota Prius |
| Subcompact SUV: | Honda HR-V |
| Compact SUV: | Subaru Crosstrek |
| Mid-Size SUV: | Jeep Wrangler Unlimited |
| Full-Size SUV: | Chevy Tahoe |
| Mid-Size Pickup: | Chevy Colorado Extended Cab |
| Full-Size Pickup: | Chevy Silverado 1500 Regular Cab |
| Minivan: | Dodge Caravan |
Let's cut to the chase. Why don't we just go through these inexpensive vehicles and tell you what they're lacking so you don't have to find out during your test drive, or worse, after you've purchased one. Off we go.
Chevy Spark
Lacks Horsepower. It's faster only than the outrageously-efficient and inexpensive Mitsubishi Mirage. Take a look at the Honda Fit instead, perhaps.
Toyota Corolla
It lacks options. It's a 4-door sedan and doesn't come in many variations. If it's engine options or a coupe you're looking for, you need to look at the Honda Civic.
Honda Accord
It's tough to find fault with this one. Although, its coupe version will no longer be available and its engine and A/C can be a little noisy. That's subjective, of course. It's just something to pay attention to when you test drive.
 Chevy Impala
It's not very fuel efficient. The Ford Explorer gets better gas mileage. Thank goodness Chevy upgraded the Impala's design, though.
Toyota 86
It has a rear row of seats and a trunk but both areas are a little cramped. You might have to upgrade to a bigger sedan if you want passenger space and sufficient space for suitcases.
Toyota Prius
Well, this one's difficult. It looks weird? It's hard to find a problem here. However, it's a little small for some of us and there's really not a good alternative with more room yet.
Honda HR-V
It has the same problem every other crossover has. It's just a tall sedan unless you pay for optional all-wheel drive. You'll need an extra $5,000 to get that. If you're OK with a tall sedan, go for it!
Subaru Crosstrek
For an AWD SUV/crossover, it's a little underpowered. You can tow 1,500 pounds with it but you might not get the acceleration you want with its only engine option, which is 2.0L and 148 hp.
Jeep Wrangler Unlimited
It's not fuel efficient (it's not meant to be) and it's a little uncomfortable to ride in, due to its suspension. It also can be considered a little pricy. We're surprised this one ranks high in KBB's cost-to-own list.
Chevy Tahoe
Like the Toyota 86, the space designated for the third row of seating and the cargo area could be too small in some cases. Although, this can be remedied by removing or folding the third row seats (assuming you don't need the seats for passengers).
The Pickups
The Colorado and Silverado pickups are very comparable to the vehicles they compete with. It's hard to find a significant point of differentiation. However, the Honda Ridgeline is a little different. It competes with the Colorado and has AWD and unibody construction. It also has a range of convenience features you might enjoy.
Dodge Caravan
It may have a low cost-to-own but it's not known for having a good residual value, which means resale value could be disappointing. It also has unimpressive safety scores and a lackluster interior.
Get free quotes from local dealers here. It's your best bet if you want to find the best deal out there.