Ford Focus RS vs. Subaru WRX STI: What Should You Drive?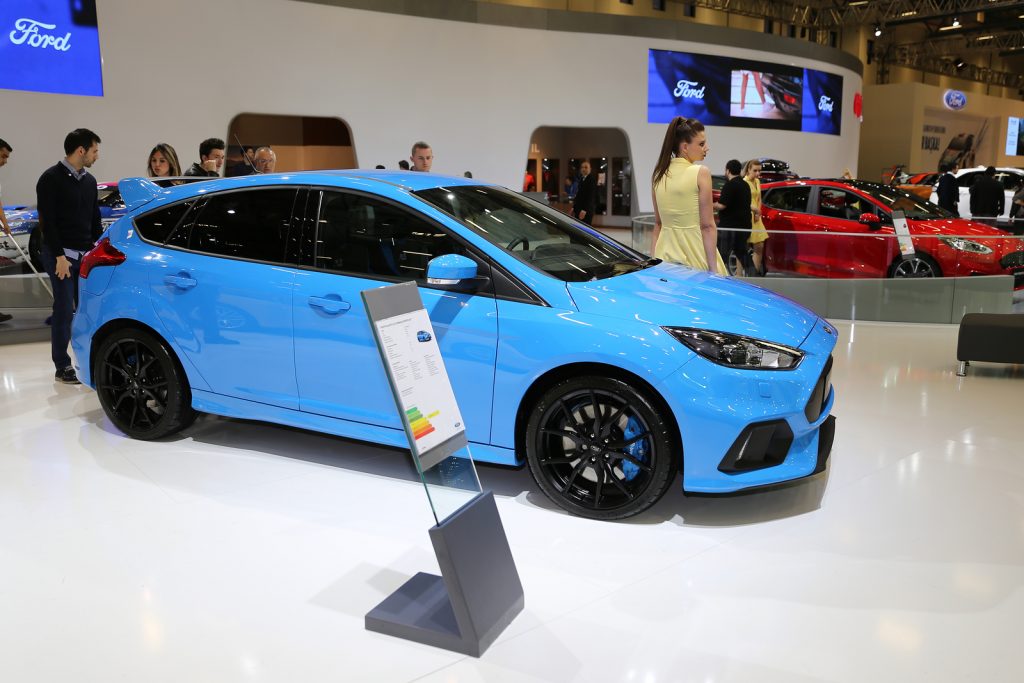 Since the Civic Type R isn't on sale in the US yet, we can't review that. We would really like to but there's no point if you can't buy it, right? Who are we kidding? You'd still like to read about it. Let's leave that article to Car and Driver, though. We'll talk about the R's worthy competitors. Namely, they are the Focus RS and the Subaru WRX STI. Which one's better?
Focus RS
MSRP: $40,085
HP: 350
RPM: 6,000
Transmission: 6-speed manual
Drivetrain: AWD
Brakes: 13.8" vented disc (front) / 11.9" disc (rear)
Tires: 235/35ZR-19 (Michelin Pilot Super Sport stock)
0-60 MPH: 4.6 sec
1/4-Mile: 13.4 sec
WRX STI (Limited)
MSRP: $40,790
HP: 305
RPM: 6,000
Transmission: 6-speed manual
Drivetrain: AWD
Brakes: 12.8" vented disc (front) / 12.4" vented disc (rear)
Tires: 245/40R-18 (Dunlop Sport Maxx RT)
0-60 MPH: 4.7 sec
1/4-Mile: 13.4 sec
As you can see, these two vehicles are neck-n-neck as far as specs and straight-line performance go. It's going to come down to the extras if we're to make a call here. What breaks this tie? Well, it's mostly down to looks (hatchback Focus vs. sedan STI) but there are a few other distinguishing features.
First off, the RS has launch control, which the WRX lacks. Both have fully defeatable and competition modes but launch control is pretty cool. Point, Ford. The thing about the WRX STI is that the Limited trim and the base trim are $5,000 apart but almost the same. The Limited comes with a big 'ol spoiler, which may or may not be something you want. It also comes with a full swaddling of leather around the seats, whereas the base STI has leather and sueded microfiber. That's about it as far as big differences. Since I'm not very interested in the big wing on the trunk, I'll save $5,000 and go with the base trim and its suttle bump of a spoiler. That means I'm saving about $5,000 by not buying the Focus, as well, and the focus's seats are leather and cloth. Although, I guess you could say the Ford's SYNC infotainment system makes up for it, since the Subie has no standard nav? Debatable.....maybe.
The warranties on these vehicles are identical, except maybe in the fine print. Both get a 3 yr/ 36,000 mile warranty plus 5 years and 60,000 miles for the drivetrain. Both vehicles are praised by drivers across the board and they're both super fun to drive. It's a hard choice, which is why we're sure the Subaru will sell to Japanese car enthusiasts and the Ford will sell to American loyalists, even though Ford parts come from everywhere. But at the end of the day, you should drive what makes you happy. So, it shouldn't be a difficult choice. Just go take a test drive. Cheers!
Pssst...Don't forget this. After you've decided which car you want, get online quotes from as many dealers as possible. This way, you can easily choose the best offer or use it to negotiate at another dealership. Click here.