How Much Does Seating Cost?
Alright, you need a vehicle or a fleet that can carry people around without costing you a fortune. If that's you, you've found the right page. We're going to look at the purchase price of some different vehicles and we'll also check out their gas mileage. This should get you well on the way to making a decision.
Mercedes-Benz Sprinter Passenger Van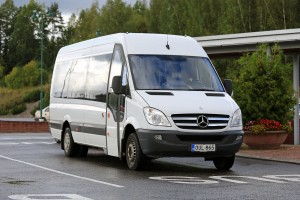 MSRP: $40,745
Seats: 12
Price per seat: $3,395
mpg: approx. 25 (highway) (diesel)
Tank size: 24.5 gal
The Sprinter has some obvious strong points. It's a Mercedes, it's large and it's diesel. On the other hand, its fuel tank could be larger. Still, with an 8,550-lb gross vehicle weight rating, available 4WD and a 5,000-lb towing capacity, the Sprinter is ready for just about any adventure you can think of. That's probably why it's the van of choice for camper conversions, beach travel and other forms of outdoor fun. It does get good gas mileage which, however, varies depending on a number of factors, one being passengers.
Nissan NV Passenger
MSRP: $32,810
Seats: 12
Price per seat: $2,734
mpg: approx. 13 (avg)
Tank size: 28 gal
It has water-repellent front seats. That's thoughtful. Also thoughtful are its 12 airplane-style rear heating and air conditioning vents. It can tow more than the Sprinter and it looks like a car an important guest would want to ride in. The problem might be it's fuel economy. It only reaches about 13 mpg on average.
GMC Yukon XL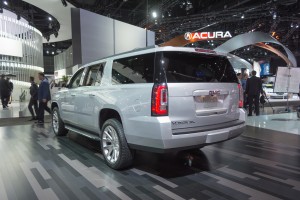 MSRP: $51,230
Seats: 9
Price per seat: $5,692
mpg: Approx. 16 city / 23 highway
Tank size: 31 gal
There's no option for luxury seating that's quite as good as the Yukon. In fact, you probably need some kind of modified vehicle if you plan to substitute something for it. Perhaps a stretch Escalade? That could get expensive. The Yukon XL isn't expensive when you take its size and power into account. The least expensive trim, the SLE, has a 355 horsepower engine that tows up to 6,300 pounds. the interior of the Yukon is considerably more comfortable than that of the vans above. You might consider the Chevy Tahoe if you can do with one seat fewer.
Ford E-350 Cutaway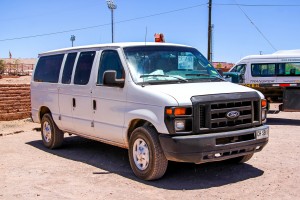 MSRP: $30,960
Seats: 15
Price per seat: $2,064
mpg: Approx. 12 city / 16 highway
Tank size: 40 gal
Let's assume you need more seating than anything above can handle. You might consider the E-350 Cutaway. It's not the best-looking vehicle there is. In fact, it's bland at best. As you can see, the price per seat is low. This is not a substitute for a couple of Yukons. It's more of an economy shuttle type of arrangement. It does do it's job and it won't send you far into debt if you can't pay cash. For something slightly nicer, but with fewer seats, check out the Ford Transit Passenger.
You should always start your auto shopping journey online. Get quotes from all of your local dealers and compare. It's free. Get started here.