The 2019 Honda Insight Doesn't Suck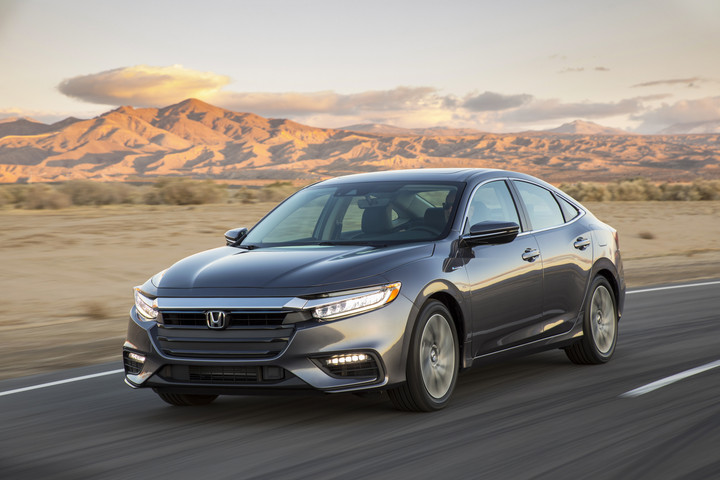 Just the thought of a hybrid vehicle sometimes makes us yawn. That's because we think of the stereotypical hybrids; the Prius and the Volt, for example. They're not exciting because they were built for being efficient and not much else. Hybrid vehicles have finally reached the next phase of the life cycle, though. They're finding themselves. They're developing an attitude. Just take a look at the Kia Niro, The Hyundai Ioniq, the flippin' Ferrari LaFerrari! Then look at the 2019 Honda Insight, a Civic-based Prius opponent.
Style
Let's start with the obvious. The Insight has been made into something that actually looks good, rather than being a moving lump of an advertisement that says "Hey, we sell eco-friendly vehicles too!" The front end looks a lot like an Accord's, which we like. In fact, the whole car looks like an Accord. Honda did away with the typical hybrid-style hatchback rear door and replaced it with a fastback-style trunk door and rear window, much like the Accord's. What we got is an exceptionally pretty vehicle.
Engine & Transmission
The 2019 Honda Insight has a 1.5 L, 151 HP gas-electric engine. It will only travel about a mile on the battery alone, meaning it's not a gas-optional vehicle. However, it uses gasoline at a very efficient rate. You can choose between three regenerative braking modes: Normal, Econ and Sport.
Interior
The Insight is based on the Honda Civic but it will feel and sound more like an Accord. That is, it will be quieter and a little more lush-feeling. Of course, the trim you choose will determine exactly how lush your Insight will feel. Every trim has a 7-inch display and push-button start. Buy the top-of-the-line Touring trim for leather seats, power moonroof, heated and power-adjusting front seats, dual-zone climate control, nav and wi-fi.
Safety & Assistance Tech
The 2019 Honda Insight, like most more-expensive-than-economy vehicles, includes a set of safety tech features. Honda sensing technology, included with all trims, includes front collision system, automatic emergency braking, adaptive cruise control, lane keep assist and lane departure warnings. All trims include a backup camera as well. EX and Touring trims include Honda's lane watch camera system, which allows the driver to view his blind spots on the dashboard.
Why It Doesn't Suck
The 2019 Honda Insight doesn't suck because instead of perpetuating the egg-shaped eco-car trend, it is a more typical representation of famed Honda design. It doesn't suck because it is comfortable and attractive on the interior and has all the technology we want in a compact vehicle. It doesn't suck because you can't find fault with it as a travel and commute vehicle. It's the perfect compact vehicle for everyday transport!
Get Honda quotes from nearby dealers right here at BestNewCar.com. Make your shopping experience as easy as can be. Save money, too! Click here.